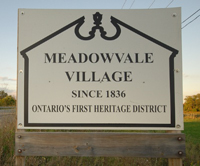 Sold Stats / Market Analysis / Village Information
Old Meadowvale Village is a Heritage conservation district, an area designated by the City of Mississauga under the Ontario Heritage Act for its architectural and historical significance. It was founded in 1819 by John Beatty and his group of Irish Immigrants from New York City. The farming village quickly grew and prospered. Saw, wool and flour mills soon sprung up. Wealthy mill owners built sturdy brick homes which are still standing today! The charm and beauty of this hamlet was recognized and protected by law.
Throughout the years, people have recognized the profound sense of place here in Old Meadowvale Village and have know it was worth preserving for all of us.
Old Meadowvale Village

Have a drive around with Google Earth

The streets considered "Old Meadowvale Village" are; Historic Trail, Early Settler Row, Carding Mill Pl, Postmaster Ridge, Upper River Crt, Shade House Crt, Pepperidge Crossing, Meadowgrove Crt, Blackheath Ridge, Lamplight Way, Hickory Hollow Glen, Lessard Lane, Gooderham Estates Blvd, Gaslight Way, Gaslamp Walk, John Watt Blvd, Appletree Lane, Lambe Crt, Spinning Wheel Cres, Pine Valley Circle, White Pine Crt, Irish Moss Rd, Baskerville Run, Davidson Way, Gablehurst Crescent, Gillespie Lane, Elliot Parliament St. Haines Artist Way, Crawford Mill Ave, Buttle Station Pl, Golden Farmer Way, Simpson Pioneer Trail, Craig Carrier Crt, Silverthorn Mill Ave, Old Derry Rd W, Old Mill Lane, Pond St, Barberry Lane, Willow Lane, 2nd Line W, Rayah Court, Campbell Settler Crt

Contact Me for Old Meadowvale Village Sold Stats request.

Do you need a Market Analysis of Your Home? Click here!


Meadowvale Village Community Hall

This building, constructed in 1871, served as Meadowvale Village's schoolhouse until 1959, when a new school was built to serve the community. Since 1968, the building has functioned as a community hall.